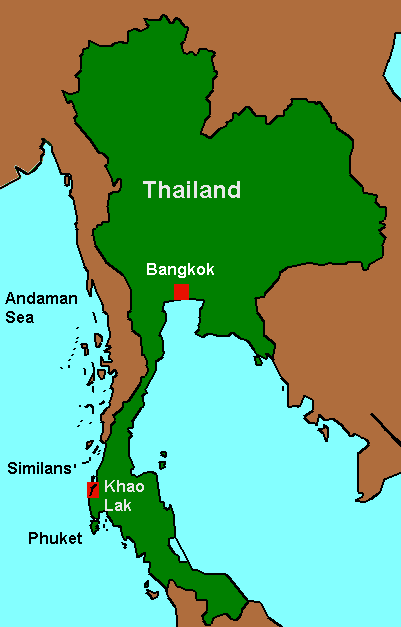 Christmas under palm trees - a dream come true. This time the destination was a small village 80 km north of Phuket, Khao Lak.
Khao Lak lies directly opposite to the Similan-islands, voted as one of the 10 best diving spots in the world. From Khao Lak they can be reached with a fast boat on day trips instead of a boat safari.
We had booked the flights before the 9/11-attacks. Shortly afterwards the great airline demise began and we feared, that our flights would get cancelled. This happened to two friends who had booked at Swiss Air and had to stay at home when the airline went broke in autumn 2001.
We had our problems, too. For several weeks now our rooms were booked wrong. I wanted a bungalow, a friend and his girl friend wanted to stay in the main house in a double room. But first I was booked in a single room in the main house and they got a bungalow. Then we all three were booked in a bungalow, then all three in the main house. And when another friend joined us, who arrived two days later, it got all wrong...
On the evening before our flight the travel agency told us, that we only got our vouchers if we payd a fee for correcting these mistakes which was much higher than the complete price of the journey - in my case they wanted 2000 € before they wanted to give me the voucher, with a travel price of about 1100 €.
So instead of packing we fought a battle via mail, fax and phone, looking for documents and mails from the travel agent. Not very funny.
On the next morning we had the feeling that we had to stay at home, but at the air port the travel agency accepted our arguments and gave us hand written vouchers on a piece of cardboard and promised, that they would be accepted at the hotel.
The most funny thing: this was the first journey I ever booked as packaged tour. Normally I book the flights and then look for accomodation, but this year I wanted to have no stress...